DENTAL SEO Can Bring You Huge Amounts of High-Margin New Patients for FREE.
Your Dentist Office website is your dental practice's dental marketing and sales machine.
Right now, at this moment, hundreds or even thousands of prospective new patients are searching Google (and Bing) for the services your dental practice offers. The question is, will it be you, or will it be your competitors that capture and convert those searchers into new dental patients?
For you to dominate the online SEO marketing game and capture all those new high-margin dental patients for your practice, your website needs to win Google's top position on Google Search. Your website must rank in the top 3 positions in your local market. This is called the Google Map Pack. You need to do this for all the keywords for the dental specializations you offer.
Next, your website needs to persuade, convince, convert, and close those website visitors and convert them into new patients.
Your dentist office website has to accomplish these two critical tasks simultaneously for you to win your local market: crush your competition and ensure all those new dental patients are yours.
To Summarize Your Dental SEO:
1. Your website needs to bring you visitors organically (for FREE) from search engine searches like Google and Bing. You accomplish this through a perfectly planned and executed Search Engine Optimization (SEO) strategy.
2. Next, your website needs to have a lot of dental content. It must be a comprehensive, well-written, persuasive sales machine that does the selling for you by converting those casual website visitors into new patients, appointments, and free consultations. These are called sales conversions.
If you only remember one thing from this page, remember this. You only win and dominate your local market when you get the most organic visitors to your website and when your website is persuasive and motivating enough to convert those casual visitors to take action and come to see you.
If your website is not doing both of these tasks for you simultaneously, your competition is winning, not you.
We will show you all the proven dentist SEO tactics for higher search rankings and how to make this all happen for your practice. Schedule YOUR FREE SEO meeting with our world-class SEO team for dentists, and we will show you how we can get you all the new patients you can handle!
Why Do I Need a Dental SEO Agency?
Social Dental NOW specializes only in marketing for top dental practices. The team you will work with is not working on dental content today and content for lawyers or plumbers tomorrow. We are true dental practice marketing and consulting experts for dentists. This is what we do 100% of the time. 100% of our team and 100% of our efforts are focused solely on the dental industry and your success in dentistry. For instance, the website production company we use builds websites for dentists only, and our content writing teams specialize in writing content for dentists only.
Digital Marketing for Dentists
Schedule a Zoom meeting with Social Dental NOW. You'll meet SEO professionals who understand your business, sales, digital marketing, and Search Engine Optimization (SEO). They know how to combine these elements for your success.
Social Dental NOW's search engine optimization (SEO) strategies are meticulously planned and executed. We will grow your practice and bring hundreds or even thousands of new visitors to your website for FREE through Google Search.
SEO works for you 24 hours a day, seven (7) days a week, and holidays too. Our SEO services for dentists will bring a steady stream of new visitors who are searching for your dental services directly to your practice's website for FREE!
Conversion rate optimization for dental websites: Boosting patient inquiries
Social Dental NOW has its own definition. To us, a conversion is when someone visiting your website calls your practice from your website, fills out a "send me more information" form, schedules an online appointment, or schedules a FREE consultation. Essentially, a conversion is a sale, or at the very least, the beginning of one.
For your marketing plans to be successful, Real Dentist SEO and your website's written content and videos must work together seamlessly to optimize dental marketing.
It's critical to understand the two most essential parts of Real Dentist SEO and your website conversions:
Successful dentist SEO marketing is when our SEO efforts have succeeded in placing your practice's website in the top 3 available positions of the Google Map Pack for all the keywords you need. Real Dentist SEO organically brings people searching for your dental services to your website every day with no charges from Google. Yes, that's right, for FREE!
Next, your website must function as a highly effective salesperson, routinely converting visitors into new appointments, free consultations, and prospective patients. These are called conversions.
To successfully use search engine optimization in dental marketing, it is crucial to understand and measure two key concepts. Failing to do so can lead to focusing on minor technical issues. Accurately performed SEO and an engaging website are essential for your website to bring in new patients.
Your website content must be written to convert visitors to consultations and consultations to sales. These critical concepts in marketing your dental services must be designed, planned, and executed to work together elegantly.
You'll know if your website is genuinely converting visitors to consultations because the calls coming into your front desk will be things like: "Hi, I would like to schedule my free Invisalign consultation" or "Hello, I would like to schedule my free implant consultation."
When those types of calls come in, potential new patients have read through your website, found your content and your message compelling, and your website has effectively converted them from casual visitors to FREE consultations or new patient appointments. By calling or filling out a web form, they are taking follow-up action on the compelling content and services they found in your dental advertisements on your practice's website.
If there's low call volume at your front desk or your front desk receptionists get lots of price-related calls with questions such as: "I saw your ad; how much is Invisalign?", your website is not functioning as an effective sales funnel or salesperson. It is not converting visitors to new consultations or new patients for you.
Search Engine Optimization Can Make You the Top Dental Practice in Your Area!
How to Rank in the Google Top 3 and Get Tons of New Patients With Effective Dental SEO Services
Without industry-leading, independent SEO analysis tools, the best SEO for dentists is impossible to measure and even harder to prove. It's easy for unscrupulous dental marketing companies to say they are doing SEO for you, take your money, and send you a few self-created reports that seem to indicate that your SEO is doing well. In reality, and in many cases, we have seen that they do nothing……except take your money! Unfortunately, our dental marketing company has seen this behavior far too often with other dental marketing companies.
We will share our reports with you directly from Google, SEMRush, ahrefs, and other independent SEO analysis tools. You will see the results of our work as we do it by actual measurements and as your business grows month by month.
If you're a dentist who needs more patients coming through the door but can't afford to risk or waste money on SEO that doesn't work, our marketing agency and Real SEO consulting team are what you need. We use Google and third-party independent SEO analysis tools from the #1 and #2 third-party companies in the industry, so there is no way we can manipulate the data. You will see and be able to measure the results of our work together.
Our SEO services aim to get your website ranking in the top 3 slots for the Google Map pack for as many critical dental marketing keywords as possible. If your practice's website is not ranking for those keywords in the top 3 Google search results (The Google Map Pack), you're not getting any new organic business.
In most cases, the way Google works today is that if you're not ranking in the top 3 positions, you're essentially invisible.
Social Dental NOW (SDN) is here for all your dental marketing services and needs. We expertly build your local search engine optimization, local SEO for dentists, keyword research, backlink building, compelling and effective sales content creation for your website, landing pages, social media posts, and much more.
We'll work with your existing web developer to ensure your practice's website is found online by new potential patients every day and that your dentist's office is at the top of the Google search results page. If your current web developer is not amenable to collaboration, no worries. We know the best dental website development experts in the world for you to work with. We can prove to you that every client we have ever worked with for at least one year (and takes our advice) is now ranking #1 in their local market for dentist SEO.
Why Your Local SEO Strategy Is Essential
With precise keywords strategically placed in your website content, you can position yourself as the authoritative expert in your local area while creating higher rankings in Google organic searches! These long-tail keywords can help optimize content related to dentist marketing services.
When your dentist office is looking to attract new patients and rank higher in Google and other search engines, it's time for you to meet our SEO experts team for dentists.
The process begins with a 3rd party website site audit and extensive keyword research.
Our SEO agency can connect you to a professional writing composition team specializing in writing perfect dentist SEO content if needed. This is a team that we have trained extensively and who follow our SEO guidelines precisely. This can quickly expand and create custom content for you based on your practice's specialties and goals.
Next, we take that written content and edit it in the most advanced SEO simulators on the market. We test your content in SEO simulators that mimic Google's own pagerank algorithm. We edit, refine, add the perfect keywords in the correct frequency, re-edit it again, and produce final content that is persuasive and does the selling for you.
The final content we will produce will rank well in the Google Map Pack, and maybe more importantly, will close new cases for you.
We understand that marketing for each dentist office is unique and that every dentist office has different specialties. Our digital marketing agency will tailor our specific SEO marketing services to your office's specialties, such as full mouth restoration, Invisalign, Dental Implants, or Sleep Apnea. Individual customized marketing keywords and tactics will drive the specific kind of new patients you are looking for directly to your practice.
Top dental SEO strategies for practice growth
Our dental marketing agency offers a full suite of SEO consultation services, including everything from site health scans, strategic long tail keyword research, and website and SEO optimization. Once we see your website health scan results, our team gets to work with your web developer to correct any technical issues that would prevent you from ranking in the top 3 search engine rankings.
Confidently, our SEO agency provides the best SEO strategy and consulting services you will find anywhere. We partner with the best professional content copywriters who follow our exact guidelines to create elegant, persuasive, strategic content so your website can rank on Google's first page.
Successful dentist SEO is not easy, and front-page results for Dentist SEO may take months of consistent effort.
We have never failed, so rest assured.
We will guide your web development company to optimize your site using precisely chosen dental marketing keywords according to your needs and specialties.
Our dental management dashboard will show you which keywords are currently driving new patients to your website. When optimizing your website with fresh content or updates/changes, these keywords will be reflected throughout your website's content in the exact frequency needed to achieve a front-page position. Our ongoing 3rd party SEO analytics allow us to keep an eye out for Google algorithm changes while never forgetting what's important: providing you with new patients!
We're not just a one-time SEO consultation service. Our experienced company provides monthly SEO status checks and an ongoing custom-tailored program to improve your SEO results continually. We scan your website at least twice a month looking for new issues or problems, so we can always keep bringing your webpage the best possible results.
Search engine optimization and Real SEO for dentists are hard work, but it's essential if you want to dominate your market and be found by potential new patients online for FREE.
Each new website visitor starts with a Google search and a potential patient picking one of only three dentists displayed in the Google Map Pack. Our digital marketing agency for dentists works with you to give you the most substantial possibility for your practice to be in the top 3 for all your dental specialties.
Have no illusion; it takes 3-12 months of consistent hard work, strategic planning, dedicated dental marketing, content writing, and teamwork to make this happen. It's not easy.
If it were easy, you would already be in the top 3, and you would not need us.
Social Dental NOW can take you there step by step until you can organically dominate and crush your local dental competition.
Remember this: your investment in Real SEO, if done correctly, will bring you new patients for FREE for the next 7 to 14 years at no additional monthly cost! Real SEO is the best return on investment and one of the most important things you can do for your dental practice in the long term.
Unlocking Local Dental SEO Supremacy: Surge Ahead and Dominate the Dental Market
94% of new dental patients will research a dental practice online before choosing one. Our team at Social Dental NOW has been executing successful digital marketing strategies and the best SEO for dentists' campaigns for many years. Our dental marketing agency continually adapts to changes in Google's search algorithm and market trends.
Studies show that most new patients find their new dentist online and contact them either by text, email, or phone to set up their first appointment. If you want your website to rank in the Google Map Pack, schedule your FREE meeting with the Social Dental NOW SEO team now!
Supercharge your dental practice with our unbeatable SEO services!
We understand the importance of skyrocketing your online visibility and attracting a steady flow of qualified patients. With hard work and excellent planning, get ready to witness your practice soar to the top of search engine rankings with our persuasive and highly effective SEO tactics and strategies.
Is your dental website truly a valuable educational resource for prospective new patients? Optimizing your content goes beyond mere marketing keywords. It involves meticulously analyzing and adjusting your website's content to enhance the user experience and attract, engage, and convert as many potential new patients as possible.
Google's assessment of your dental website extends far beyond including dentist marketing keywords. The search engine evaluates numerous factors to determine whether your website deserves a prominent position in the coveted top three search results.
To ensure your dental website stands out as an educational gem and appeals to both Google and prospective patients, consider the following:
Your website must provide valuable educational content and offer informative and relevant content that addresses your target audience's needs, concerns, and questions. You establish trust and credibility by positioning your website as a go-to educational hub, encouraging potential patients to choose your practice.
Optimize for user experience: User experience plays a vital role in Google's evaluation of your website. Optimize your site's design, navigation, and overall usability to create a seamless and engaging visitor experience. Keep users' engaged by ensuring fast loading times, mobile responsiveness, intuitive navigation, and by having an aesthetically pleasing layout that facilitates easy access to information.
Implement effective SEO strategies and tactics: While Google considers more than just marketing keywords, optimizing your content with relevant keywords is still crucial. Conduct thorough long-tail keyword research to identify the most often searched terms and phrases potential patients use when searching for dental information. Strategically integrate these keywords into your content, including headings, meta tags, image alt tags, and URLs, to improve your website's visibility and ranking.
Incorporate multimedia elements: Enhance the educational experience by integrating multimedia elements into your content. Utilize videos, images, infographics, and interactive tools to convey information in a visually engaging and memorable way. This enriches the user experience and increases the likelihood of visitors staying longer on your website.
Remember, creating a valuable educational resource goes beyond optimizing content for search engines. It involves genuinely addressing the needs of potential patients, offering valuable insights, and fostering a positive user experience. By striking a balance between educational content and optimization techniques, you can position your dental website as an invaluable resource and attract both Google's attention and prospective new patients.
Google looks at over 200 known measurements with each website, such as media types, images, videos, patient testimonials, and organized code layouts/designs called schema within your site.
Schema markup for dental SEO: Enhancing search results
Did you know Google created a specific Schema (a specific website structure) just for dentists, and 90% of all dentist websites have not bothered implementing it?
Dental SEO consultation services: Expert advice for practice success
There are many components to website optimization other than content. Even the names and titles of the pictures and videos on your site affect your SEO. We pay detailed attention to every image file name and URL structure, so optimizing a dental website must start with working on over 200 incredibly tiny details on each page!
Understanding and organizing the hundreds of details affecting SEO can be challenging. Social Dental NOW consults with your web development team and third-party content writers, giving them strategic advice on improving your SEO rankings and verifying it's working using industry-standard, third-party tools. With Social Dental NOW, it's not a guessing game; you can see the progress!
Google believes the time a user spends on your practice's website and how many pages each user reads indicates how relevant and valuable your website content is.
The longer someone stays on your website, the higher you will rank in Google for dental search terms. Google measures relevance by looking at engagement; if users spend lots of time exploring pages on your website with great content, we're successful because these people have become engaged as potential new patients.
If the website visitors leave quickly with no action, Google marks your website as having a high bounce rate. This is the last thing you want to have because Google prioritizes the websites it displays to Google searchers that have the lowest bounce rates!
The Power of Dental Backlinks: Improve Your Website's Ranking and Attract More Patients
Having excellent, relevant, persuasive dental content on your website is one of the essential aspects of a successful SEO strategy. You also need to signal that your site is an authoritative source by actively building high-quality backlinks from other websites linking to yours.
Essentially, there are three (3) different types of backlinks you need.
The Role of Trusted Backlinks in Dental SEO: Building Credibility and Authority. Your website needs backlinks from trusted websites such as Google.com, Yahoo.com, Apple, Waze.com, and many others. Google trusts these websites. The more of them that link to your website, the more trust they transfer to your website. The more Google sees your website as a trusted information source, the more often your website will be shown to Google's valuable searchers.
Dental Backlinks from Reputable Dental Organizations: A Surefire Dental Marketing Strategy for SEO Success. Google thinks that links from your industry are essential for showing value and trust. The more links you have from trusted dental sources listed, such as the American Dental Association, the more Google perceives your website to be authoritative and valuable to their searchers. You need hundreds of backlinks like this to be the best in your local SEO area.
Local directory listings for dental SEO: Dominating your area. Google believes that links from locations or businesses near you in your city are also very valuable. This proves to Google that you have a valuable local presence and that your local community trusts you. Links from local online magazines, TV stations, and other local sites convey local trust in you.
Google believes having great high-quality dental backlinks raises your site's trustworthiness. Great backlinks help to bring you more traffic, which leads to more conversions, which leads to increased sales and leads generated from high quality prospects visiting your dental website.
Social Dental NOW can write, build, and deploy world-class backlinks for your dental office and build additional excellent, high-authority backlinks to your website monthly. Our dental marketing backlink team gets you results affordably, so your investment works for you in the long term.
Great dental marketing content and great backlinks from other respected sources are two of the most important signals Google uses to rank your website high; however, there are many others. Google currently measures over 200 known signals for dentist SEO, and we optimize all of them.
Remember that these links to your website must be high-quality and natural. If a site is fully approved to link back to you, and the site that links to you has been well-liked by many people, it's a high-quality backlink with a high value for you.
Reputation Management – Online Reviews for Dental SEO: Building Trust Online
Online reviews are vital for dental practices to ensure quality service and provide good impressions on potential patients.
If your dental office is not getting as many positive reviews as you'd like, it's time to do something about it. Your dental office will be ranked higher on Google search results by having consistent, high-quality reviews and ensuring they post in the appropriate areas.
We can recommend automatic review monitoring software to help your practice build hundreds of high-quality 5-star reviews. Our online training course, "How to Convert Consultations to Sales," will train your front desk team to get you a vast number of 5-star reviews. How your front desk team interacts with the patients at the front desk, more than anything else, determines the number of 5-star reviews you'll receive. More importantly, great front desk and patient communication can virtually eliminate 1 star reviews. Make sure you train your front desk team on how to win friends and influence people.
Dentists need more than just good dental reviews for their service. They need positive feedback from patients treated with care at all stages of the patient experience, from initial consultation through follow-up visits after completing treatment. Reviews go beyond just a rating. These written testimonials provide an opportunity for potential new patients to get insider knowledge before committing themselves or even visiting the dental clinic firsthand, which means you want to make this part count!
Generating and responding to reviews should be a standardized business routine automated by quality review request software. Social Dental NOW can consult with you to find the best dental review request software for your needs.
Social Dental NOW will train your front desk on the best way to interact with your patients at check out, bringing you up to 700% more positive reviews and helping drop bad dental reviews to virtually zero. Want to know how to make that happen? We have the answer, and we really want to make it a reality for you.
Local Directory Listings for Dental SEO: Dominating your area
Social Dental NOW will teach your dental office our secret strategies and techniques to get high-authority local links to your website. On top of that, Social Dental NOW will create backlinks for you in the top 80-100 most important directories on the internet, such as Apple Siri, Alexa, Bing, Yellow Pages, and many others, as part of our standard service. Most clients tell us they get 20-30 extra monthly calls just from being placed in these directories!
We will help you improve your online visibility by listing you in local business directories. This allows you the chance for more searches and establishes local authority; therefore, your practice will be found much more often! Not only that, but these local directories provide local links that can take local people straight to your website.
With so many avenues for potential patients to find you, your practice's information must be accurate and consistent everywhere across these directories. Social Dental NOW's third-party tools ensure that all your business data is correct across all directories and platforms.
Real SEO For Dentists Works. With your participation and collaboration, our dental marketing company will ensure that your dental office ranks in the Google map pack for all relevant searches, and in many cases, organically on page one of the search engine.
Do you want to rank in the Google Pack on the first page of Google? Real Search Engine Optimization (SEO) can make that happen! Ranking in the Google Map Pack ensures new patients can quickly and authoritatively find their new dentist online. A lot determines how well a website ranks in searches, from whether it is mobile responsive, to whether it loads fast enough, and whether the correct keywords are included throughout content and titles for pages and URLs.
Lastly, our dental marketing agency provides clients with a customized Website Key Performance Indicators (KPIs) dashboard where you can conveniently monitor your dental website SEO performance with access 24/7.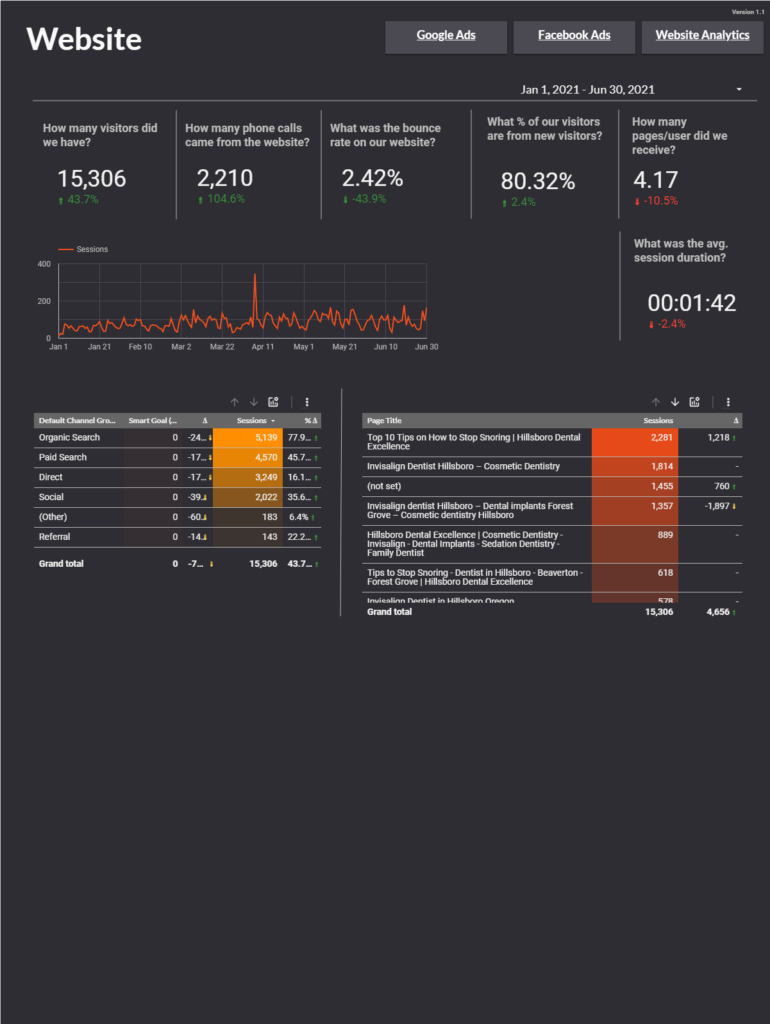 Example of our Real-Time Website Dashboard with one of our client's real live data!
What You Can Expect From Social Dental NOW
Our Real Dental SEO consultations will help you reach the top of the Google Map Pack.
A critical and thorough SEO dental keyword analysis
A complete dental website health scan, repair, and removal of all errors limiting your Dental SEO rankings
Title and description optimization focused on local keywords that matter for dental SEO
We provide you with 80-100 essential and crucial dental SEO backlinks, such as Apple.com Siri, Bing.com, Waze.com, Mapquest.com, Yahoo.com, and many more, to boost your dental website organically.
If you need to expand your website written content, we can connect you to professional dental content writing teams that follow our exact instructions on writing content that ranks!
We can see the best professional, high-quality, affordable, and effective dental backlinking company.
24/7 access to your dental reporting dashboard
Your dashboard clearly shows which SEO dental keywords are bringing potential new patients to your website.
Great Communication with updates on your dental marketing campaign success and progress
A Complete Site Scan of your Real Dental SEO Health Report and Dental Practice Website Optimization
We'll consult with your web development company to perform a complete SEO audit for dentists' tune-up on your dental office's website, fixing any broken links, errors, and toxic backlinks. Once all significant technical issues are resolved, we'll help you optimize your site's dental marketing content to match key search terms for better rankings in Google!
Our dental marketing company uses the industry's number one and number two most powerful third-party SEO tools to evaluate your site's performance. We'll assess how you're performing in all three areas that are vital for any dental practice—your website, search engines, and local directories—and then take steps to improve them all!
Get Your Dental Office Google My Business Optimized
Patients turn to Google for all of their information, and your business needs a solid online presence. We'll help you develop an eye-catching Google My Business page (also known as your Google Business Profile) with engaging dental marketing content that builds trust in order to attract potential new patients. We'll make sure your Google My Business account is optimized for the best search results! Ask us about our suggested "SDN Maneuver" that can get you ranking in the Google Map Pack for Invisalign within 48 hours!
Google uses over two hundred signals in its algorithm, and our dental marketing agency prioritizes them all and works through the list meticulously to bring you the results you need. Attracting new patients online doesn't mean making sure your dental website just looks excellent. It means having high-quality dental content that is relevant and ensures that your new dental patients will find you and convert to your new patients!
Our comprehensive Real SEO for dentists consulting services addresses the most critical issues that could be slowing down your dental website and hurting your local Google search ranking.
Your dental website has to be your most effective salesperson, bringing you lots of searchers. It needs to convert your website visitors to consultations and consultations to sales.
Your dental website must function as a professional salesperson and a functional sales funnel. Let's say you're offering Invisalign. On the top of your Invisalign page, a sales funnel should start by answering the top five most frequently asked questions that everybody asks about Invisalign. Then, as you move down the page to the middle of the funnel, there should be testimonials and videos of people commenting about the incredible life-changing experiences they had at your dental practice with Invisalign. The customer testimonial videos will help do the selling for you. Then at the very bottom of the page funnel, there should be a call to action: "Contact Us Now to Schedule Your Completely FREE, No-Obligation Invisalign Consultation," or " Call our front desk team now at (your phone number), or fill out this form, and we will call you at the time you request!"
Your website will likely need some great new content to keep people engaged on your website and do the selling for you. We have to get it filled with great dental marketing content and get it functioning as a successful salesperson and sales funnel so that when you're showing up in the Google Pack, your website is converting visitors to consultations and consultations to sales. It's not an easy or quick process; it will take time, but it is vital to the long-term success of your business.
With the awesome power of Google Ads, Facebook, and other social media marketing platforms, our dental marketing company will send thousands of potential new patients onto your website. However, if your website doesn't answer their questions, it isn't compelling enough to keep them there, has a high bounce rate, or doesn't function as an effective sales funnel by converting visitors to consultations and consultations to sales, it is failing you.
Your website has to be relevant, persuasive, and functional. Social Dental NOW's Effective SEO for dentists consulting can help your dental website function perfectly for you. Take that next step to your practice success by scheduling your completely FREE, no-obligation meeting with our expert SEO team now.
SCHEDULE YOUR FREE MEETING
Click to schedule your
FREE meeting
with our dental marketing agency NOW, or call
442-245-3700
and start getting new high-margin patients today!
You do the Dentistry.
We Deliver the Patients.