For Your Dental Practice to Dominate Your Local Market, Your Google Ads MUST be in the Top Slot on the Google Search Results Page.
Google Adwords for Dentists and Google Pay-Per-Click for Dentist Marketing: Shoot to the top of the Google search results page by utilizing Google Ads for Dentists Pay-Per-Click.
The Google Ads system is a powerful tool that will allow you to target the people who are most likely interested in your services and expertise, directly bringing you many high-margin new patients with the help of dental ads.
In a world where you have to compete online for every new patient, it is no longer enough just to attract dental patients. You need to attract the right patients, patients with money in their pocket ready for your specialization cases, such as Invisalign, Dental Implants (All-ON-4 included), and Sleep Apnea, where each average patient will be spending over $5,000! Using powerful marketing platforms such as Facebook Ads and Google Ads, our Social Dental NOW team will find these strategically valuable patients for you and bring them to your dental website with our highly targeted and successful Google Adwords for dentists campaigns. We have tripled our clients' revenue with our dental marketing ideas, strategies, and proven skills, and we can show you the results we have achieved with our digital marketing strategies. If you need to grow your practice in your local area, you need to use the benefit of online advertising. Otherwise, you will keep on relying on your existing patients and won't be able to increase your revenue. When it comes to marketing for a dentist then you should know that our dental marketing agency has proven years of experience in dental ads and we make sure your dental practice wins over your competitors.
One of the most significant strategic mistakes our dental marketing company sees is when dentists spend money on Google Dental Ads and Local SEO without understanding how the process works or how to attract the types of patients they need. Most companies that appear as the best dental marketing companies don't truly understand how people actually search for different procedures, making their dental clients spend significantly more marketing money than necessary and get a much smaller return on their investment.
Many inexperienced dentist marketing companies don't know how to do marketing for a dentist, they don't even know how to write persuasive Google Dental ads copy that will effectively bring in new leads and convert them into sales. As a result, their campaigns don't work the way you need, and you miss quality leads and conversions. They don't understand the intricacies of long-tail keyword targeting, and they end up using ineffective and negative keywords in their campaigns. As a result, you end up not getting the new patients you need and end up burning through much more money than you should. Dentist marketing is a skill our dental marketing agency achieved through years of experience in this particular field.
The Purpose Of Google Adwords for Dentists & Pay Per Click (PPC) For Dentist Offices
The purpose of Google ads is to match your dental specialties with the people searching for them at this moment and persuade them with the help of our dental practice marketing skills to visit your dental website.
Many dental marketing agencies focus on the most obvious and, therefore, the most expensive Google search keywords that, many times, will bring just a few qualified leads. This wasteful strategy attracts patients who are just kicking the tires or looking for "the lowest price." With this amateurish yet common approach, you'll spend far too much money and time waiting around for new patients to come in—with many not showing up or following through with their scheduled appointments or treatment options. Marketing for dentists requires the usage of relevant high-volume keywords that can bring you tons of new patients and we have been doing digital marketing for dentists for the past 20 years.
Google Adwords for dentists' advanced targeting features allow us to target potential new patients based on their interests, symptoms, and phase of research. With our tested, proven AI strategies and systems, our dental marketing company will consistently find you the best type of cases for your dental practice.
Many times, dental practices that are doing dental practice marketing often do not truly understand the intricacies of how their potential new patients are searching on search engines such as Google or Bing. Even if you have a fantastic team of experienced dentists, they will often take all the wrong steps with Google Dental Ads and digital marketing. With our PPC for dentists, we ensure that your dental practice connects with the right audience at the right moment. This boosts your online visibility and attracts qualified leads to your clinic.
Luckily, Our dental marketing agency is here to help you with our data-driven and research/evidence-based marketing for dentists approach. You need to understand where your potential clients are in the sales funnel and how converters move through those funnels. This will give you a huge strategic advantage over your competitors who don't have our best dental marketing company showing them the best way.
The Best Google Ads for Dentists Will Deliver Lots of High Margin New Patients
Imagine if your dental website was ranking at the top of Google for every single search related to dentistry. Imagine how many more patients you would have! A well-designed Google Dental Ads campaign will strategically put you at the top of virtually every Google search results page!
Our Dental Marketing Agency provides Google Dental Marketing Ads campaigns to rocket you to the top of Google search results by targeting potential new patients at just the right moment. We'll create personalized dental practice marketing campaigns with your dental specialties in mind, ensuring that we're sending qualified leads straight to your dental website and calls to your front desk. All leads will be tracked for your success through our live lead sheet and real-time Dashboard.
Get Your Dental Office To The Top Of Google Search With Our Exclusive Google Ads For Dentists Marketing Campaigns
Below is an example of one of our Google Ads Campaigns for a Dental Practice Marketing, where a Google searcher types the word "Invisalign cost" into Google search, and one of our clients wins the Top Slot with our Google ad for them.
Notice that marketing on price is not a good strategy; advertising price is a loser's race to the bottom.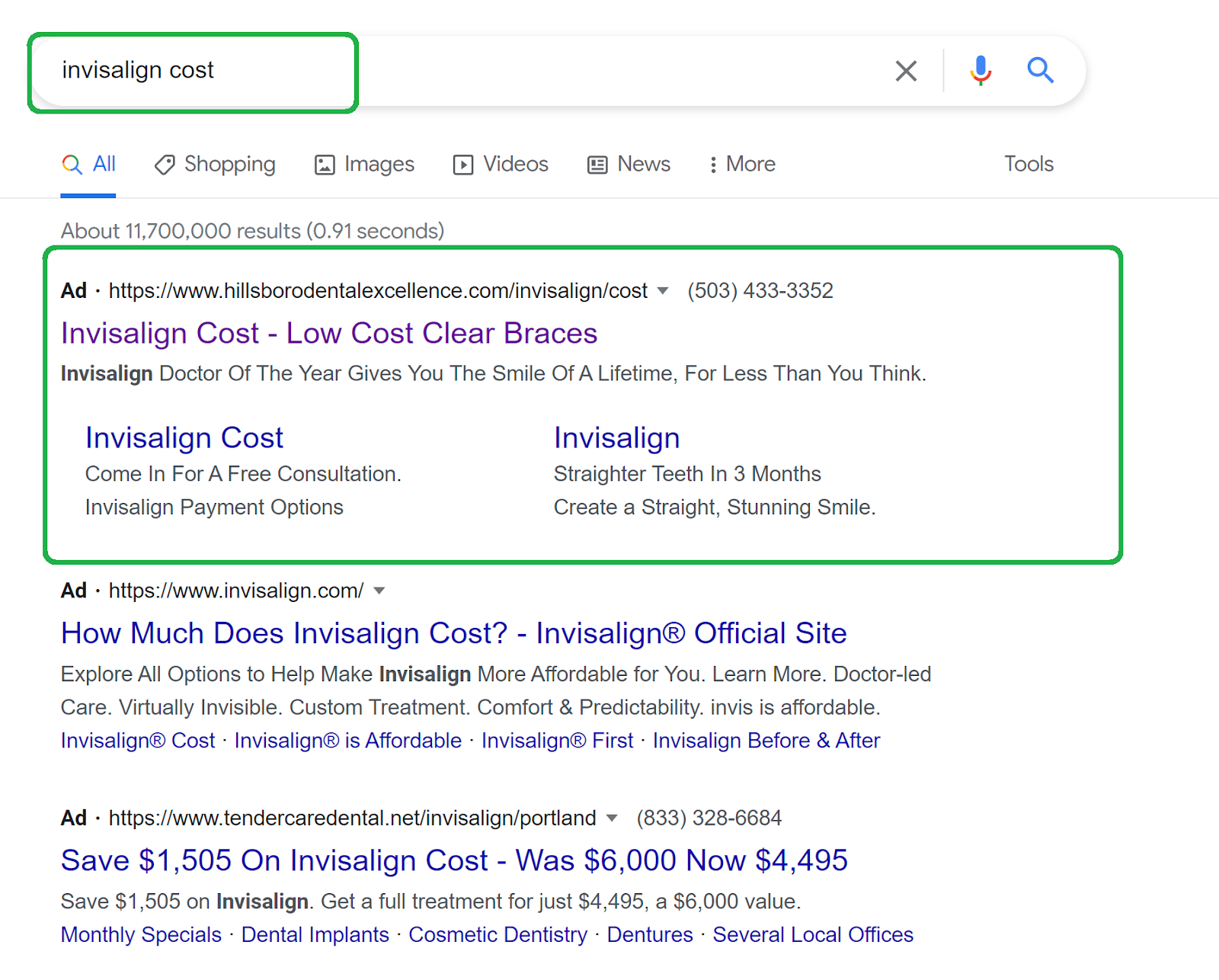 Drive Tons of New Dental Patient Leads with Google Adwords for Dentists
Using Google Adwords for Dentists for doing Dental Practice Marketing is one of the best ways for marketing your dental services in front of the right people. With our Dental Marketing Agency "Social Dental NOW", you'll have prominent top slot placement on Google's search engine.
First, we use the Google keyword planner to search for the relevant long-tail keywords related to your campaigns. Then we check the search volume of each keyword, and by doing this, we customize which keywords are targeted for each campaign so that only relevant individuals will see it, ultimately driving more business your way.
Our well-crafted Digital Marketing for Dentists campaigns will significantly increase new patient lead generation. With our AI data analytics and our marketing team's world-class technical skills, our dental marketing agency will maximize your overall return on investment (ROI) and will significantly increase your conversions.
Our dental marketing company examines every detail when analyzing your dental ads on Google's platform to provide detailed insights into how effective each campaign is across audiences. We tweak our strategy and run experiments with this information before deciding which campaigns will perform best before spending your money and moving forward!
This approach ensures that you're always getting the most out of your dental practice marketing dollars to fuel your dental practice growth strategy and gives you the best return on investment (ROI).
Get More Phone Calls At Your Front Desk
At our online dental marketing agency, we value your time and want to maximize every dollar you spend on Google Adwords for Dentists. When you work with our best dental marketing company" Social Dental NOW" for Google Dental Ads, we use dynamic call tracking numbers to measure the calls generated from each campaign.
This way, we can see which keywords drive patients and which dental ads are the highest converting so that together, we give you a better ROI (Return On Investment) with every dollar spent on marketing for dentists.
We regularly monitor your Dental ads performance and review what needs to be improved to achieve optimum results for your dental practice marketing.
Our Dental Marketing Agency will provide your team with a lead sheet that tracks every lead we deliver to your practice with the help of our dentist marketing skills. We make sure all of this information is easy for you and your staff to access.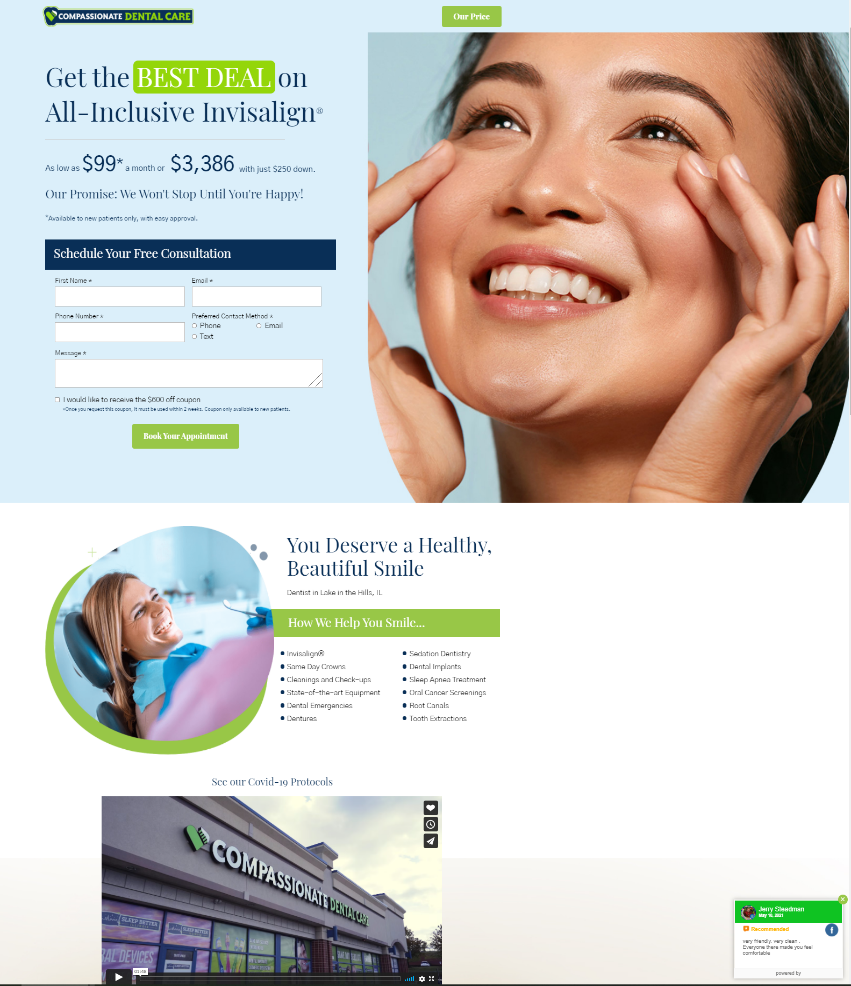 If Your Website is in Bad Shape, We Can Help. We Will Build Landing Pages for You. This Will Allow You to Use Google Adwords for Dentists and Get Great Conversions With Google Pay Per Click (PPC)
Suppose your current dental website is in bad shape and proving NOT to convert visitors to consultations and consultations to sales. In that case, until we get new content created and your dental website updated correctly for conversions, our team of dental advertisement experts will create personalized landing pages. These are temporary pages designed to do the marketing for dentists to convert visitors to take action to schedule a free consultation or to make an appointment.
Each landing page is custom-tailored for each campaign you're running. With our results-proven, world-class landing pages, we will optimize each page so they'll convert traffic into new leads. Each page will have a form fill capture on the landing page to ensure that all new leads go straight to your front desk's lead management system.
When our dental marketing company builds landing pages for dental advertisment, we'll test many versions of landing pages and carefully watch analytics to see which one performs the best. Once we know which one is performing the best in your local market, we'll focus your marketing spend on that page, or pages, to maximize your return on investment (ROI).
Your Own Real-Time Google Ads Dental Key Performance Indicators (KPIs) Dashboard
Our Dental Marketing Company will provide you with an industry-leading real-time marketing Dashboard, it provides everything you need in one location. You can access the Dashboard from any device and see up-to-the-minute results for all of your campaigns. Our Dashboard removes the complexity of looking at many different PDF reports from numerous analytics systems or trying to understand hundreds of various pages on Google Analytics. Our real-time Dashboard contains all the Key Performance Indicators (KPIs) for you in one place.
---
What Kind of Results Should Your Dental Office Expect From Our Google Adwords for Dentists Campaigns?
New general & specialty patients every month
Quality leads that convert to consultations and consultations to sales
When needed, targeted landing pages optimized for lead generation
Measurement of every conversion and tracking of every lead
24/7 access to your reporting Dashboard to track your KPIs progress
Supercharged world-class campaigns
A Dedicated Google Ad Specialist with years of experience
High-margin dental leads generation
World Class Google Adwords for Dentists Marketing Strategy & Planning
You can't afford to miss out on high-margin potential new patients. Our digital marketing agency for dentists will strategically optimize Google Ads marketing campaigns to work with your dental practice to identify high-margin cases and develop a strategy that will help you attract the most qualified patients.
We'll do this by driving targeted traffic to your dental website, your Facebook and social media pages, or custom landing pages, where we'll inform and educate potential new patients on how they can get started right away.
We Will Execute Perfectly
With our World Class dental marketing strategies, along with our highly relevant keywords analysis and tested Google Dental Ads, we will create unstoppable campaigns that will show a low cost-per-click with a higher conversion rate maximizing your ROI. This supercharges your dental marketing with the maximum qualified leads at the lowest possible costs to your dental practice!
We Will Track Every Detail
What is the best way to measure and achieve your dental marketing campaign's success? It's multiple avenues that persuade a patient to take action and convert. With call recording lines and form fills, our dental marketing company can directly associate each conversion with each individual Google Ads campaign. Tracking every conversion from the first click until treatment acceptance will ensure maximum ROI for all your dental practice marketing.
We Will Do Expert Analysis
Once your new Google Adwords for dentist marketing campaigns have been active and are gathering data, our dental marketing agency will analyze and regularly optimize them. Through our AI account optimizations, you may find that refining your keywords or targeting dynamics could provide a more substantial ROI for your dental marketing campaigns in just days!
Make Google Ad For Dentist Marketing Work For YOU!
Google Ads has invested considerable time and money into improving its Google Ad quality score algorithm to ensure that each PPC click is as valuable as an organic search result. To maximize your dentist marketing campaigns' return on investment (ROI) we attract the user to click your dentist marketing ad and then we convert them into a valuable sale for you. with the help of our proven strategies.
Statistics Show That Google Ads Now Account for Over Half of All Google Search Internet Clicks!
If you want to be a highly successful dentist, your dental office must have extraordinary Google Ads for Dentist marketing campaigns constantly running at all times.
Expert Google Adwords For Dentists Marketing Keyword Research is Essential for Your Success.
Does your business have the time and budget to research and set up the most complex Dentist Marketing Google Ads campaigns? Most dental offices don't have the time for that kind of commitment. Your dental office needs a robust online presence.
Our Dental Marketing Agency will put together Google Ads tailored specifically to driving traffic toward your dental website and landing pages from search engines. When less profitable keywords arise, our AI-based dental marketing software will automatically eliminate them with continual analysis throughout while optimizing the higher-performing ones!
Today, having a successful Google Ads for Dentists Pay Per Click (PPC) campaign is essential. You need to combine Google Ads campaigns with highly effective Facebook ads, social media marketing, and a Real SEO for Dentists strategy, along with a fully conversion-optimized dental website, to ensure you're getting effective conversions and keeping your Google ad quality scores high.
You Need to Have the Best Google Ads for Dentists' Marketing Campaigns in Your Area and Ensure that Your Google Ads Get Clicked On Most Often.
If your Google Dental Ads do not get clicked on, Google will stop showing your ads.
It does not matter how much you bid for that keyword. You could outbid everyone in your territory, but if almost no one clicks on your Dentist Marketing Google Ad, Google will make sure it seldom shows up again. If your dental ad is not perfect, you will lose your number one slot immediately, and unfortunately, Google will downgrade your ad quality score.

Don't get us wrong. Google wants your money. However, Google also knows that if the searcher does not get what they want, they will become dissatisfied. So Google will not put your practice in the top slot.
Our dental marketing agency tests multiple variations of our Google Dental ads, hundreds — thousands — and sometimes tens of thousands of times to find the most compelling Google Ads for dentists, engaging headlines, and the best messages. We only use thoroughly tested, vetted, and proven Google Dental Ads for your dental marketing. Our digital marketing agency for dentists has the industry's best strategies to convert prospects or visitors into sales-qualified leads!
Your Google Ads Dental Marketing Campaigns Must Have the Best Google Ads Quality Score to Take the Top Slots.
While doing marketing for Dentists, Many people think they can just sign up for Google Ads to do dental marketing and start bidding a lot of money on keywords, and they will see great results.
Nothing could be further from the truth.
Yes… Google is looking to make money from people bidding on their dental keywords, but they also have to consider the searcher's goals, along with your dental marketing goals.
You're looking for Google to help you attract more new patients. Users are looking for Google to answer their questions by presenting them with the most useful ad for their search.
So Google, your dental marketing, and searchers each have different goals. Google knows this, and as a result, it invented an algorithmic metric called Google's ad quality score, which we'll explain here.
With the creation of the ad quality score algorithm, Google ensures that all top parties can "win." That means you have to thoroughly understand how this algorithm works to utilize Google's advertising system to win your market.
Our Dental Marketing Agency will enlighten you on the secrets of Google Adwords for dentists marketing, and more specifically, your practice's ad quality score. You will learn how to spend your dental marketing money ultra efficiently to get the most new patients at the lowest possible cost.
If you look at the following ad on a smartphone, you'll see that if somebody types in the word "Invisalign" into Google, our client, Hillsboro Dental Excellence, shows up in the top slot. You can see our ad at the very top in the green box.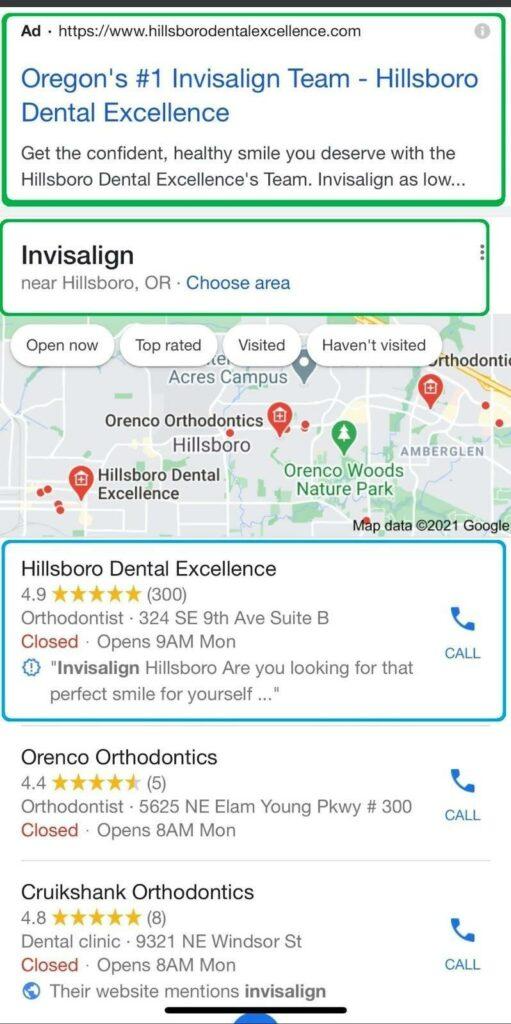 When you're on a desktop, you'll usually see three, sometimes four ad slots, but when you're on a smartphone, you'll notice that there's only one ad slot!
The latest research shows 65% of all searches are on smartphones. So if your dental office is not taking the #1 slot, you are missing at least 65% of all the dental business! If you are not taking the top slot on mobile, your competitors are crushing you!
This means that your dental marketing Google Ads needs to be in that top slot for both phones and desktops. You must win the top slot, or you will miss out on up to 80%-100% of the potential dental marketing services business in your territory!
The way you succeed at Google Adwords for dentists marketing is by building a high ad quality score. A Google ad quality score is a secret number between 1-10 that Google assigns to your dental office based on three known factors.
Google has to decide between the hundreds or even tens of thousands of people trying to get into this number one slot. They will give that number one slot to the best dental marketing company with the highest ad quality score.
If you haven't built up your ad quality score to a 10, your Google Ads will not show up the most often in the top slot. One of your local competitors will then occupy this coveted top slot, and you will lose!
The higher your ad quality score, the more often Google Ads will show your dental marketing ads, the higher your ad will place on the page, and the cheaper it will be "per click overall."
When you first start running dental marketing ads, your ad quality score will be a "1." So how do you boost it up to a "10?"
The First Aspect that Affects Your Success with Google Ads Dental Marketing Ad Quality Score is Consistency.
The first metric is Consistency. Google Ads is not looking for someone who runs ads for a few days or months and then stops. They're looking for a long-term business partner. They want someone who is professional and constantly running dental marketing ads. The longer you are running Google ads providing Google searchers with valuable content, the more Google trusts that your dental office is worth showing to other people.
Your dental marketing ad quality score will be low when you first start because you do not have any history of running ads. Google will boost your ad quality score the longer your dental marketing ads account is active and running quality ads. Turning off your Google ads campaign is a bad idea; you can turn down your budget, but you should not turn them off.
That's why when our dental marketing agency starts with a new client, we recommend that they spend our recommended minimum amount a month for the first three months on Google Ads. It takes our recommended minimum budget and at least 90 days of ad consistency to begin to build up your ad quality score.
The second aspect that affects your dental marketing Google ads quality score is ad quality.
The second metric is ad quality. If your dental marketing ad does not get clicked on often, Google will stop showing your ad, or at the very least, show it far less often. It does not matter how much you bid for a keyword, such as "dental implant."
You could bid twice as much as anyone in your territory (many people think this money-wasting strategy works somehow!), but if almost no one clicks on your ad, Google will quickly stop showing your ads in the top slot. Stop wasting your money on bad-quality dentist marketing ads.
Our dental marketing company tests many variations of our ads, hundreds, thousands, and sometimes even tens of thousands of times to find the most compelling and engaging headlines, content, and message.
We only use thoroughly tested, vetted, and proven dental ads that have a very high proven click-through engagement rate for your dental office.
Without our dental marketing agency's proven AI tracking and testing software, there's no way a local dental office could possibly build up its dental marketing ad quality score nearly as high as our technologies and advanced AI systems can.
The Third and Final Aspect That Affects Your Dental Marketing Google Ads Quality Score Is Relevance.
The third metric is relevance. Google needs to ensure that your dental website has the relevant information on it for the ad that the potential patient clicks on. That means Google needs to know that the new likely patient found what they were looking for. Your dental website has to be relevant.
Google knows how many pages each user that visits your dental website reads. Google also knows your dental website's bounce rate; this is the percentage of people who land on your dental website who can't find what they're looking for and leave or bounce away immediately.
If your dental website has a 50% bounce rate and the average person only looks at 1.5 pages per visit, Google knows your dental website is NOT relevant to that ad and will move your ad quality score down.
Yes, it's true; a non-relevant dental website will stop your Google ad from being shown in the top slot!
Critical Fact: This is another reason why your dental website has to be built correctly with good relevant, quality content. Great content will improve your Dental SEO, improve conversions, and improve your ad quality score all at the same time!
Bidding intelligently for the keywords you need is essential. This is where Google Ads dental marketing keyword bidding comes into play. Our dental marketing agency systems even have the ability to anticipate a searcher's intent. Social Dental NOW uses AI systems to place bids on keywords when those Google Ads dental marketing keywords are the cheapest (for the minimum bid).
So, for example, using our advanced AI technologies, our dental marketing agency will hold off bidding for specific competitive dental marketing keywords if the cost is too high and let other dental marketing companies overbid and overspend. Instead, as an example, our AI system may bid at 3:44 AM because that will be the lowest cost time to buy that dental marketing keyword, many times for less than half of what others are paying!
To recap, to achieve a great dental marketing ad quality score so that your ads consistently land in the top slot:
Consistency. You must be continually and constantly running ads.
Ad Quality. You have to show ads that people actually click on the most often.
Relevance. Your dental website has to have relevant content, a low bounce rate, high average pages read/user, and the right dental marketing keywords purchased at the right time.
Now, that's all far too complicated, time-consuming, and labor-intensive for any dentist to do by themselves. That's why the top dentists partner with Social Dental NOW and tell us that we're the world's premier, best dental marketing company. We are the top 1 who can do the successful marketing for dentists.
Many dentists find that if they've been doing their own Google Ads when they partner with us and switch over to Social Dental NOW. The dental marketing services we provide can actually pay for themselves with the cost savings our AI systems can produce.
Our Dental Marketing Agency is an expert in building you a high Google Ad Quality Score — and getting you to the top slot.